Supply Chain Workshops Hosted Around State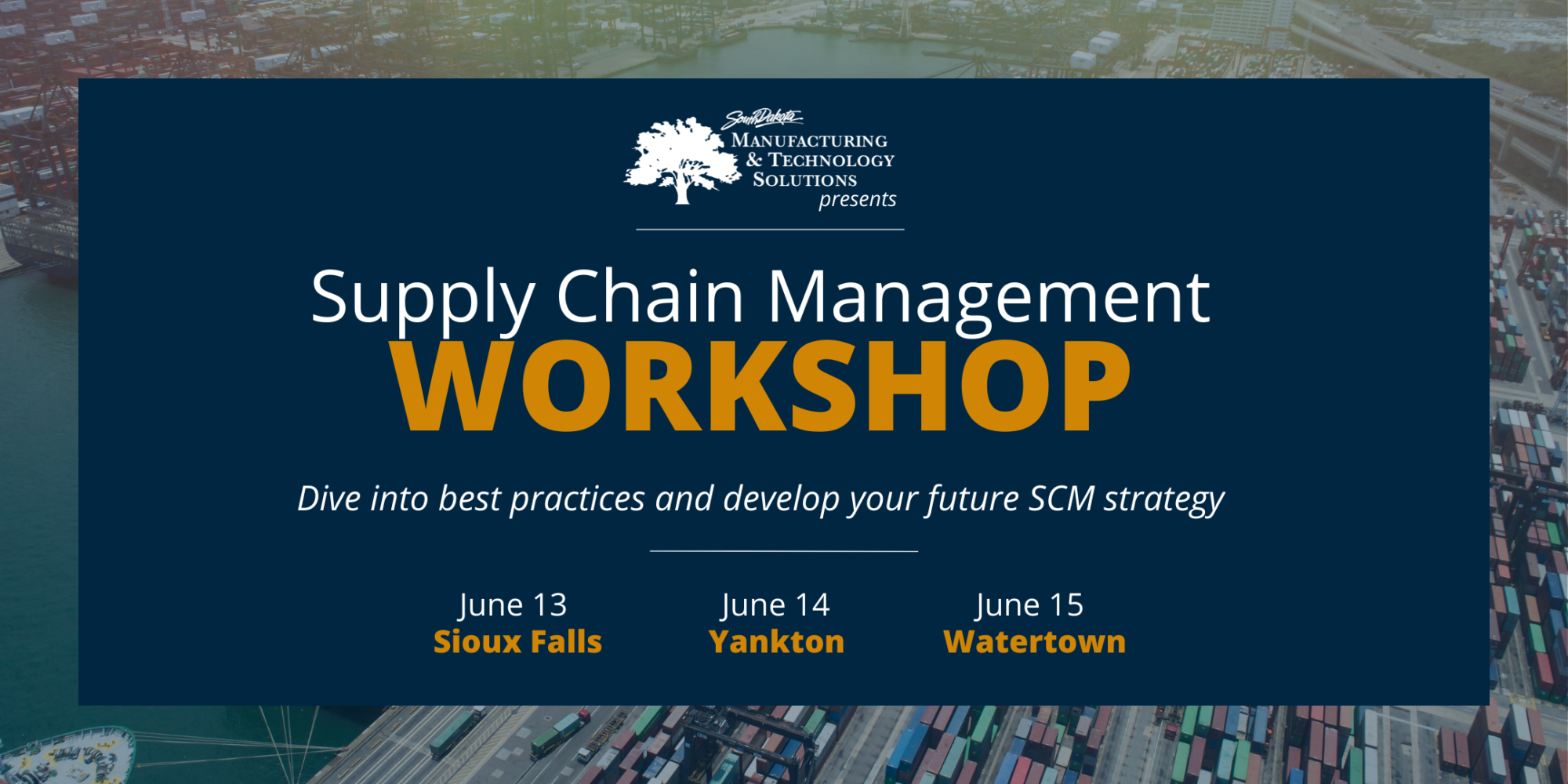 South Dakota Manufacturing & Technology Solutions is proud to introduce a series of one-day workshops being hosted around the state the week of June 13, focusing on Supply Chain Management strategies.
About this event
In this one-day workshop, manufacturing leaders will have access to insight and supply chain management expertise to learn, assess, and strategize their company's future supply chain management strategy.
The workshop begins with a morning session focused on supply chain fundamentals like SCM proficiency, Total Cost of Ownership (TCO), TCO Strategic Reduction, SCM Risk Management, and Contracting and Negotiation Tactics. The afternoon features hands-on guidance in assessing your business and developing a supply chain roadmap. You'll leave with an assessment of your supply chain strategies, metrics on where you want to target improvement strategies, programs, and plans for making your SCM stronger in your company, no matter the size.

KEY TAKEAWAYS
How your supply chain truly impacts your bottom-line costs and top-line revenue

Knowledge of your supply chain complexity
How your SCM strategy can drive a competitive advantage for the company

PRESENTER
Anthony Russo, Business Excellence Group + TradeHub International
Anthony has spent over fifteen years helping companies establish sourcing and sales relationships around the world. He currently focuses on creating import/export strategies for companies entering new markets. He has partnered with Overseas American Chambers of Commerce, Universities, World Trade Centers, Governments and Associations. He has held the titles of Director of Education and Trade Services for the South Carolina World Trade Center, Director of Trade Services for the World Trade Centers Association in New York, Director of Trade Service for the World Trade Center Denver, President of THI Mexico, and International Sales Manager for a number of clients. Mr. Russo is considered a subject matter expert for international business and trade

INVESTMENT
$129/person
Lunch and snacks will be provided

DATES + LOCATIONS